A FAMILY SPORT
Golf is a sport we can all share as a family and enjoy healthy competition. Abbeydale encouraged and nurtured my golf over many years as well as my husband, son, daughter and son in law, and now my grandson Maxwell who is now a 4 handicap golfer playing at a high level and winning national competitions.
Our coaches run lessons for everyone. They are endlessly patient and encouraging, making use of our indoor swing studio as well as the practice ground.
Maxwell will sometimes say 'Fancy a few holes today Granny ?' What other sport can offer that ? -Sue Meggitt
.....................
On moving to the Peak District we considered joining various clubs before deciding on Abbeydale as the course is always beautiful and the food is good. The staff are always very friendly in the clubhouse, office and pro shop and remember the member's names. Our guests have also been made very welcome and we have enjoyed bringing them to Abbeydale to enjoy the course and tasty food. The whole club is well organised, the Lady Captains and other officials are most helpful and welcoming.
...................
12 September 2023
I was sorry not to see you to thank you for organising what proved to be a very successful and happy visit.
Before we played we were joined by my sister Elizabeth and the three of us had a very tasty lunch served, in a most efficient and friendly manner, by a members of the bar staff.
Tom and I then played and I got thrashed 6 and 5. Quite simply, my son played well and I didn't but we really enjoyed our match. The course we both felt was in excellent condition and the paths from the tees are very good as they enable good access and capability for two players to walk side by side. Abbeydale is a fine course and seems to get better and better.
We look forward to coming back next year and thanks again for superb hospitality which I know both Dad and Mum would have thoroughly enjoyed.
Kind regards
Richard Wharton. (Peter & Dorothy Wharton's son)
.........
8 September 2023
Nigel
Just want to say a big, big thank you on behalf of our party following our visit yesterday.
From the moment we entered the clubhouse to leaving the club we were treated royally - and had the great pleasure to play one of the finest golf courses many of us have ever played.
Special mention to the pro too. He was so helpful and obliging and is a credit to your club - as are all your team in the bar.
Without a shadow of a doubt we will be back - and encourage others to pay a visit to your club and enjoy its magnificence as we did.
Kind regards, Kevin, Chilwell Manor Wanderers,
............................
Tuesday 13 June 2023-
For information, I have 4 x pairs wanting to play in your Senior
Open Event next year on the 14th May; I aim to book these in at the latest next week as the 4 of us who played this year really enjoyed the event. The members who supported the day made us feel very welcome. They did an excellent job in hosting the event and the course was in great condition considering the weather earlier in the year.
Graham Hayward
...................
Tuesday 30 May 2023-
On behalf of the Captain Kieron and the members of Coxmoor, I have heard nothing but great comments about Abbeydale and our visit there last Friday, comments such, great course, great condition, great welcome and great food, quick greens, and tricky flag positions were the comments fed back to me.
I am so glad your guys enjoyed it here, and comments from our staff were that they found ALL your members very pleasant and a joy to deal with.
Best wishes for the rest of the season.
Colin. Manager Coxmoor GC
.........................
Tuesday 23 May 2023-
I just wanted to say a big thank you to everyone who catered for my father's wake on Tuesday.
The food was magnificent, and Shaun and his team did some lovely Gluten free options. I would highly recommend Abbeydale for a wake. It only took 5 mins to get there from Hutcliffe Wood.
Luckily the weather was also kind for us so we were able to make use of the balcony. The view of the course was really beautiful.
Please pass on my thanks to everyone involved.
Your assistance at a difficult time was much appreciated.
Jonathan Rowley
.................
Friday 19 May 2023-
A big thank you to you and the club for allowing me to hold my 60th party on Friday. I had a fantastic time surrounded by all my best friends and colleagues amassed over the last 36 years.
A big thanks also to the catering/ hospitality staff for serving us so well. Many people commented on how delicious the pie was and how good the chips were too.
The band enjoyed themselves and proved very popular so thanks for accommodating live music.
I hope it was seen as a success from the club's perspective too.
Warmest regards
Richard Wroth
..........................
Saturday 22 April 2023-
Just wanted to send an email to say thank you so very much for sorting out my party last night. Everything was absolutely fabulous from the super bar staff to the amazing food, it really was fantastic. Everyone said how great the venue is and everyone was raving about the food, so please pass on my thanks to the chef and to all the staff. From the bottom of my heart, a huge thank you.
..............................
Thursday 13 October 2022-
Good evening Nigel,
I wanted to let you know what a fantastic day we had on Thursday 13th October. The welcome we received was amazing and the course was in fantastic condition.
The bar and catering staff were also first class. Please pass on our thanks to all staff.
Best regards, Chris Weir, Head Greenkeeper, Market Harborough Golf Club.
..........................
Friday 16th September 2022 -
I really wanted to say how good it was to play our tournament at your Club last week. I have played at Abbeydale a couple of times a year for almost 40 years, having had many great times over the years. Last week, everything was exceptional. The course was amazing and especially the greens, the welcome from members was appreciated by all players and the staff were all very attentive and enthusiastic, which was lovely to experience
However, there was one department that really shone above all of this and that was the catering. For two days we felt like we were eating at St Andrews. The food and presentation of it was spectacular. Please thank your chef and his staff for his skill and efforts over those two days. I photographed some of the meals and showed my wife. She is very keen to visit and eat at your Club soon.
Even though we luckily and narrowly won the final, we all felt winners, having had such a great time for two days at Abbeydale Golf Club. Please pass on my thanks to all of your staff, a credit to the Club and thank you Nigel for overseeing this successful event.
Kindest regards, Dave McDonnell
..............
Nigel, On behalf of the Northants Golf team that attended your course for the PSUK event last week I would like to thank you for the clubs amazing hospitality and wonderful golf course. I speak on behalf of all our players who loved their 2 days up there. The course was in exceptional condition and proved a good test of golf. The food was possibly the best I have had at a police event and the staff looking after us for the 2 days were great. Knowing the Derbyshire shield is to be hosted at the club next year, I am very confident I will be over subscribed with players wanting to experience what we just have.
Jed, Thanks for all the organising of the event. I know how much hard work and effort that goes in to these events, which is unseen by many.
Thanks again and see you all next year. Iain Auld, Secretary, Northants Police Golf Section
.............
May 9th 2022- Stunning golf course! Has just gone into my top 3! Gorgeous club house, great food and extremely friendly members and staff which is rare in my opinion. We will be back soon! Thanks again. Daniel Parkinson from Ashton in makerfield G.C.
Hi Nigel , Hope your well . I just wanted to give you some feedback from our day out with you last Friday.
I thought your whole operation from the pro, yourself (of course) , Shaun and his team in the kitchen ,the bar and waiting on staff and perhaps most of all your fantastic course , were absolutely magnificent. It was my first time visiting your course and I can not believe I haven't had the pleasure before, I will surely be back .
Please pass on my comments to your team.
Also if you would ever consider an exchange day with our course , https://www.rvgc.co.uk/, we are only 80 minutes away , please get in touch , i think our courses are quite similar in the fact they are both thinking course.
I enclose a picture of myself and my partner (it was a pairs event ) who won the trophy on the day .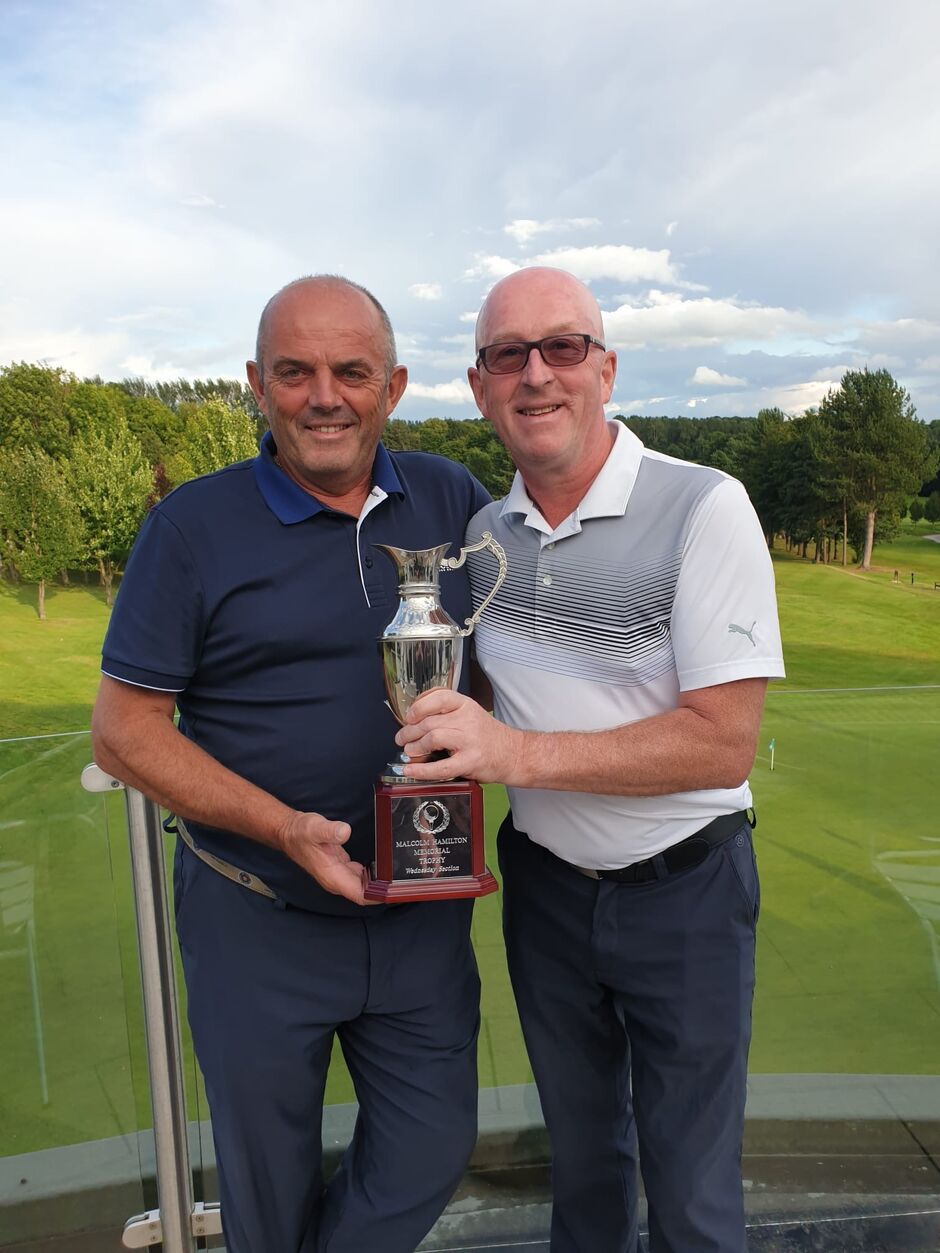 Thanks again
.........................
Hello, it's Daniel I spoke to you before on golf club car park.
Stunning golf course! Has just gone into my top 3! Gorgeous club house, great food and extremely friendly members and staff which is rare in my opinion. We will be back soon! Thanks again. Daniel Parkinson from Ashton in makerfield G.C.
..........................
On behalf of the Quakers GS, I would like to thank you and all your staff for making our visit to Abbeydale GC a real pleasure. There was nothing but praise for the course, catering and the whole experience. Indeed some of our golfers booked your Seniors Open as soon as they returned home.
Thank you once again.
Pete Walley
......................